Public Private Partnership Increases Transportation Access in Pinellas Park and East Lake
Release Date: 2/22/16
Pinellas Park, Fla. – The Pinellas Suncoast Transit Authority has partnered with Uber and United Taxi to help address a very common barrier to public transit use: easy access to a bus stop. Often called the "first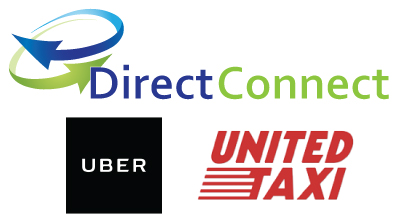 mile, last mile" conundrum, transit agencies all across the U.S. find that getting riders to a bus stop is the first step in turning them into public transit users.
"Once we make it easy for someone to get to the bus stop, riding the bus becomes a real transportation alternative," says PSTA CEO Brad Miller. "PSTA is always looking for ways to deliver value to our riders and the community, and this partnership with Uber and United Taxi does exactly that."
PSTA's new program, called Direct Connect, allows riders to use Uber (in Pinellas Park) or United Taxi (in Pinellas Park and East Lake) to travel within a specific geographic zone to or from a series of designated stops. From there, riders can connect with the regular PSTA public transit bus system. On the return trip, they can use Uber or United Taxi to travel from the designated stop back home or to work (within the zone).


"We are proud to partner with PSTA on our shared mission of improving access to safe, reliable transportation options for Pinellas Park residents," says Christine Mitchell, General Manager for Uber in Tampa Bay.  "By helping to bridge the gap on the first and last mile for commuters, this innovative public-private partnership will compliment and extend the reach of the existing transportation infrastructure in the region and open up more opportunities in the community."

With this unique partnership, the first of its kind in the nation, PSTA will pay half the cost of the Uber or United Taxi ride, up to $3.
"We're so glad to be working with old friends to serve our community in a new way," agrees Nick Cambas, principal owner of United Taxi. "The people on United Taxi's management team, myself included, have devoted their careers to the ground transportation service industry in Pinellas and surrounding counties. Doing so has given the team a variety of opportunities to work closely with PSTA, building a relationship that is decades long and strong. PSTA's Direct Connect exemplifies the ideal public-private partnership: PSTA reduces its costs, our drivers have increased business opportunity, and the public benefits by saving time and money. I call that a Win-Win-Win."
To use Direct Connect, riders can request a ride through a downloadable app (for Uber and United Taxi) or by calling United Taxi directly. Those using the service through Uber are required to create an account, which can be done through the app or online at www.Uber.com , and can only pay via a credit card linked to your account. Riders using United Taxi will have the option of paying for the ride with either cash or credit.
This new and innovative partnership, pioneered by some of the most influential transit experts in the county, is the cornerstone of PSTA's commitment to delivering value and continuing to advance public transit in Pinellas County.
"PSTA is showing true leadership by entering into an innovative partnership that is among the first of its kind in the nation," said Senator Brandes (R- St. Petersburg). "This technology offers a great opportunity to mass transit providers and expands access transit for Pinellas families. I hope that other providers in our region and throughout the state will follow the lead of PSTA and embrace this technology that Floridians have come to expect in their communities," said Brandes.
www.PSTA.net

###

About PSTA: The Pinellas Suncoast Transit Authority is the public transit provider for Pinellas County, providing more than 14.9 million rides per year. PSTA operates nearly 40 bus and trolley routes with a fleet of 210 vehicles. To learn more about the services offered by PSTA, or for schedule and fare information, passengers are invited to call the PSTA InfoLine at (727) 540-1900, or visit www.psta.net. PSTA is an equal opportunity employer.
MEDIA CONTACT:
Ashlie Handy, PSTA (727) 488-8237, ahandy@psta.net