Know which route schedule(s) you need?
Select your schedule from the available jump menus below.
* Indicates service funded in part by PSTA but operated by our partners.
All Services
Regional Express Bus
Select a route
Trolley Services
Select a route
Links to Other Systems in the Region
Below is a list of our most popular fares.
3-Day Unlimited Ride Flamingo Fare
7-Day Unlimited Reduced GO Card
7-Day Unlimited Ride Flamingo Fare
31-Day Unlimited Reduced Fare GO Card
Passport Monthly Pass Flamingo Fare
WHERE'S MY BUS?
Introducing the Real Time Bus Information.

PSTA invites you to experience Real Time Bus Information. The system works with GPS technology and allows PSTA to pinpoint each vehicles exact location at all times. This means we can provide reliable, real-time departure information to passengers.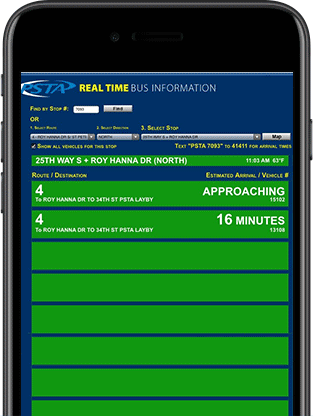 PSTA to Resume Regular Service
Release Date: 9/14/17
St. Petersburg, Fla. — All transit services in Pinellas County have resumed regular operation.
As the county continues to recover from Hurricane Irma, the Pinellas Suncoast Transit Authority (PSTA) has lifted all service restrictions on all 38 of its routes, including two express routes to Hillsborough County.
Riders should refer to posted timetables and schedules for individual route information.
"As normal operations begin to resume throughout Pinellas County, the safety and well-being of our riders remain our number one priority," said PSTA CEO Brad Miller.
###
About PSTA: The Pinellas Suncoast Transit Authority is the public transit provider for Pinellas County, providing more than 14.4 million rides per year. PSTA operates nearly 40 bus and trolley routes with a fleet of 203 vehicles. More information is available at www.psta.net.