Know which route schedule(s) you need?
Select your schedule from the available jump menus below.
* Indicates service funded in part by PSTA but operated by our partners.
All Services
Regional Express Bus
Select a route
Trolley Services
Select a route
Links to Other Systems in the Region
Below is a list of our most popular fares.
3-Day Unlimited Ride Flamingo Fare
7-Day Unlimited Reduced GO Card
7-Day Unlimited Ride Flamingo Fare
31-Day Unlimited Reduced Fare GO Card
Passport Monthly Pass Flamingo Fare
WHERE'S MY BUS?
Introducing the Real Time Bus Information.

PSTA invites you to experience Real Time Bus Information. The system works with GPS technology and allows PSTA to pinpoint each vehicles exact location at all times. This means we can provide reliable, real-time departure information to passengers.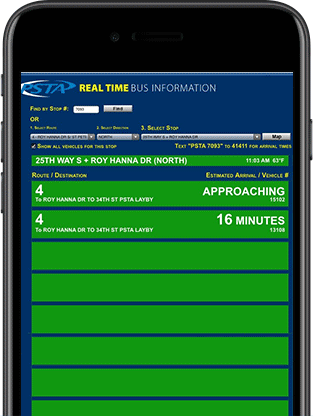 PSTA to Suspend Service at 7:30 p.m. Tuesday, Sept 12, 2017
Release Date: 9/12/17
St. Petersburg, Fla. — By nightfall, all PSTA buses will be off the roads. 
Due to limited power, damaged traffic lights, and fallen debris, PSTA will be suspending all transit services at 7:30 p.m. on Tuesday, September 12, 2017. 
Regular service will resume at 7:30 a.m. on Wednesday, September 13 on routes as they are cleared for safe departure. PSTA officials are continuously monitoring road conditions and will update routes and services as information becomes available.
TUESDAY SERVICE UPDATE: 
The following routes are not running:  19, 52, 62, 67, 90 and Connector.
STAY UPDATED: 
For the most up-to-date transit information, visit PSTA.net or follow PSTA on Facebook and Twitter.