Know which route schedule(s) you need?
Select your schedule from the available jump menus below.
* Indicates service funded in part by PSTA but operated by our partners.
All Services
Regional Express Bus
Select a route
Trolley Services
Select a route
Links to Other Systems in the Region
Below is a list of our most popular fares.
3-Day Unlimited Ride Flamingo Fare
7-Day Unlimited Reduced GO Card
7-Day Unlimited Ride Flamingo Fare
31-Day Unlimited Reduced Fare GO Card
Passport Monthly Pass Flamingo Fare
WHERE'S MY BUS?
Introducing the Real Time Bus Information.

PSTA invites you to experience Real Time Bus Information. The system works with GPS technology and allows PSTA to pinpoint each vehicles exact location at all times. This means we can provide reliable, real-time departure information to passengers.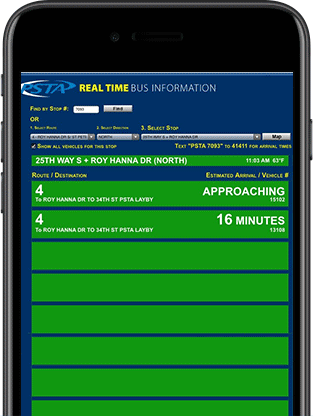 PSTA Employees Sponsor Ronald McDonald House Room for Six Years
Release Date: 10/26/18
$6,000 Check to be Presented to RMH
WHAT:
The Leadership PSTA class of 2018 chose, for their community project, to host a fundraiser and adopt a room at the Ronald McDonald House. They exceeded their goal of $5,000 with a total of $6,050 – entirely consisting of contributions from PSTA employees. A check will be presented from PSTA to Ronald McDonald House.
WHEN:
Monday, October 29, 2018 at 11:00 a.m.
WHERE:
Ronald McDonald House – St. Pete West
702 8th Avenue South, St. Petersburg
WHO:
Brad Miller, PSTA CEO
Lisa Suprenand, Executive Director at Ronald McDonald House Charities Tampa Bay
PHOTO OPPORTUNITIES: Speeches given by those named above in front of house; Giving of large novelty check; Leadership PSTA 2018 Class; Potentially a family testimonial
PARKING & DIRECTIONS: Media should park in free parking garage on corner of 7th St. S & 8th Ave. S.
MEDIA CONTACT: Whitney Fox, 727-540-1892, wfox@psta.net