Service Changes Effective Sunday, September 13, 2020:
Starting Sunday, September 13, 2020, four additional routes will return to regular service. All service will end at 10 p.m.
The following routes will return to pre-coronavirus service seven days a week: 9, 14, 74 and 78.
Routes 4, 18, 19, 34, 52/52LX, 59, 60, Suncoast Beach Trolley & Looper returned to regular frequencies in June and will remain the same.
All routes not mentioned will operate on a Saturday schedule every day except Sundays - when they will run on a regular Sunday/Holiday schedule.
No service on Route 58 and 300X.
Regional Express Bus
Select a route
Trolley Services
Select a route
Links to Other Systems in the Region
RIDE FREE: Effective March 19, 2020
PSTA is temporarily pausing all fare collection.
Below is a list of our most popular fares.
3-Day Unlimited Ride Flamingo Fare
7-Day Unlimited Reduced GO Card
7-Day Unlimited Ride Flamingo Fare
31-Day Unlimited Reduced Fare GO Card
Passport Monthly Pass Flamingo Fare
WHERE'S MY BUS?
Introducing the Real Time Bus Information.

PSTA invites you to experience Real Time Bus Information. The system works with GPS technology and allows PSTA to pinpoint each vehicles exact location at all times. This means we can provide reliable, real-time departure information to passengers.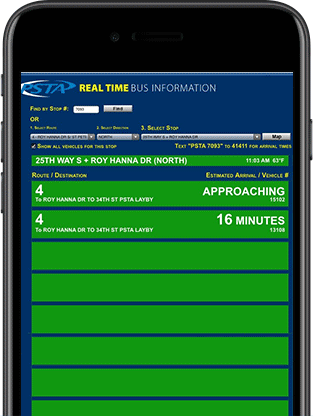 PSTA will be holding public hearings by means of Communications Media Technology.
Public can listen to the meeting and make comments during the meeting by calling using the Meeting # and Meeting ID below:
Public Hearing on a Tax Increase to Adopt a Final Millage Rate & Budget
Date:

September 30th
Time:

 

6:00 p.m.
Meeting #:
 1-408-418-9388
Meeting ID:
173 209 4756

The public hearings will be live-streamed and can be viewed via the links provided above.
Public comments can be sent by email (before or during the meeting) to publiccomments@psta.net or mailed (at least two days prior to each meeting) to PSTA, 3201 Scherer Drive, St. Petersburg, FL 33716. For technical assistance, call (727) 475-2606.