Route Changes & Adjustments Effective June 4, 2023
Ride the SunRunner! With service every 15 minutes from 6 a.m. - 8 p.m. and 30 minutes from 8 p.m. - midnight.
Standard Routes
Regional Express Routes
Select a route
Trolley Services
Select a route
Additional Links
Links to Other Systems in the Region
WHERE'S MY BUS?
Introducing the Real Time Bus Information.

PSTA invites you to experience Real Time Bus Information. The system works with GPS technology and allows PSTA to pinpoint each vehicles exact location at all times. This means we can provide reliable, real-time departure information to passengers.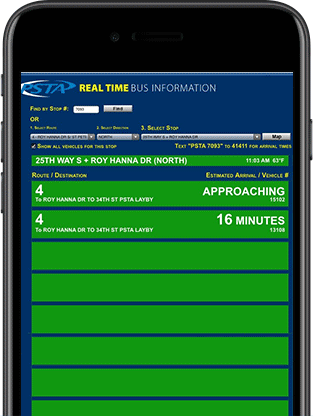 The Pinellas Suncoast Transit Authority (PSTA) will hold a Public Hearing on: 
Date:

Wednesday, May 17, 2023
Time:
10:30 a.m. 
Public comments can be sent by email (before or during the meeting) to publiccomments@psta.net or mailed (at least two days prior to each meeting) to PSTA, 3201 Scherer Drive, St. Petersburg, FL 33716. For technical assistance, call (727) 475-2606.