Let's explore exactly what makes PSTA's services so essential and how they address the needs of our community!
We're constantly talking about how essential public transit is, but we seldom discuss the details. For this month's Deep Drive, we wanted to explore the programs and services PSTA offers and how different communities benefit from them.
You might be surprised to learn that PSTA buses offer more than just a reliable way to get from point A to point B!
Commuters
According to our latest data, a third of our riders (38.5%) use PSTA for their commute to work. In many ways, commuters are at the heart of PSTA's history, especially considering Pinellas County lacks a large city center like other major cities in the country. 
Where places like New York City or Washington, DC have a commuter rail that takes riders from the suburbs into the city for work, it's not so simple for our unique area. While St. Petersburg is our largest city and has plenty of jobs to offer, it's not a traditional city of skyscrapers and white-collar jobs.
Because Pinellas County relies so heavily on being a tourist destination, many jobs are more focused on hospitality and service work in resorts on the beaches. These workers rely on PSTA buses and trolleys to get them to work on the barrier islands and beaches every day.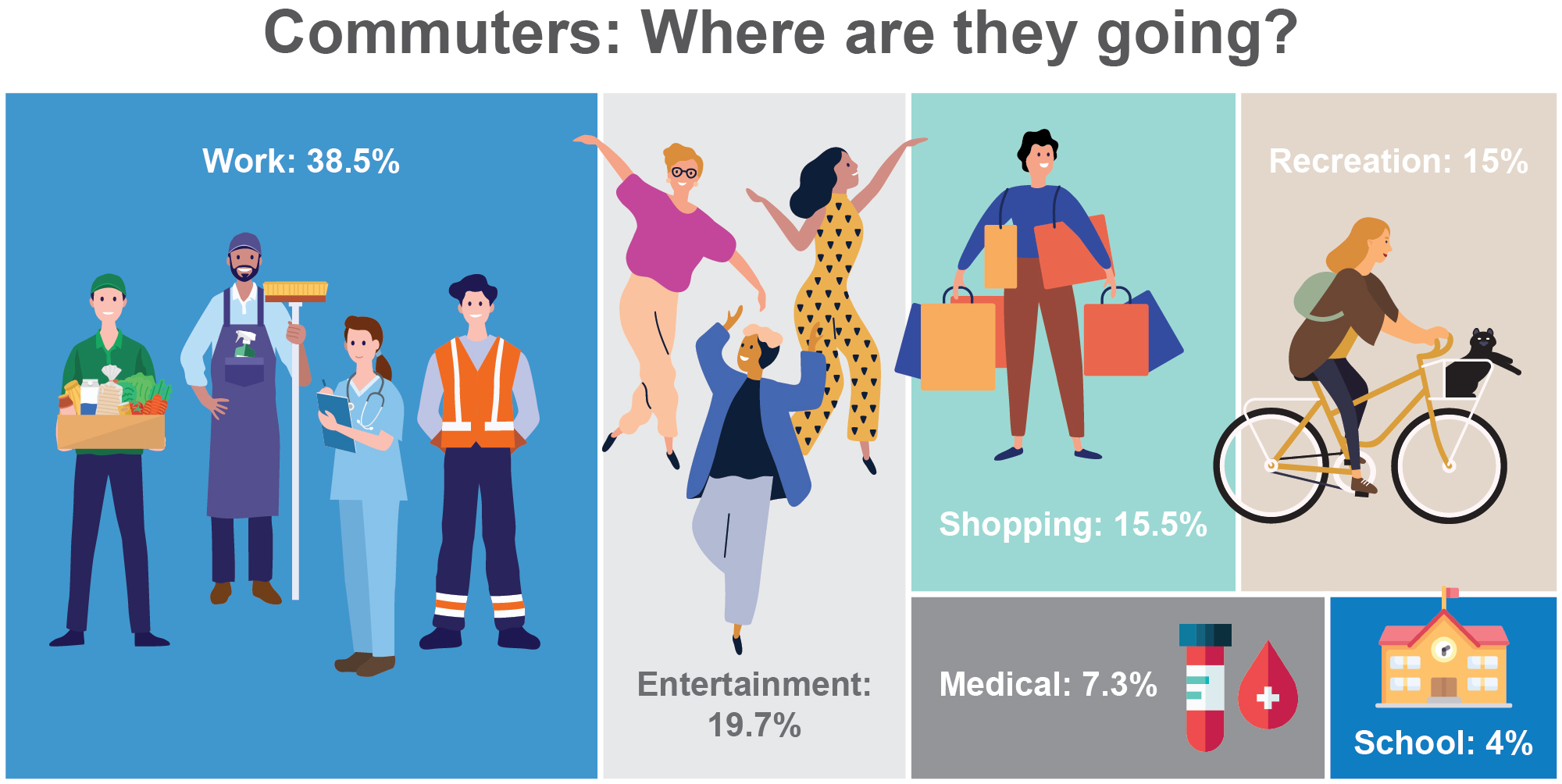 Dinner With Friends or a Night On the Town
Often overlooked is the demographic that uses PSTA for shopping, visiting friends and families, and a night out on the town. For many people, these moments are just as essential as transportation to work or doctor's appointments.
With the launch of the SunRunner, the Tampa Bay area's first Bus Rapid Transit service, it's even easier now than ever for riders to have their beach days and nights out on the town in downtown St. Petersburg.
But why even mention social outings while discussing how essential PSTA is? It's simple—having the freedom to go and have fun is essential! Especially in the aftermath of the COVID-19 pandemic, we've all learned a valuable lesson about how vital getting out and spending time with friends and family in person is to our overall mental health.
Hurricane Evacuation
One drawback of living in paradise is hurricane season and, when storms head our way, PSTA is essential for getting people out of harm's way. By working in coordination with Pinellas County's Emergency Operations Center (EOC), PSTA monitors the storm's path and keeps riders updated with vital information.
Leading up to the storm, PSTA focuses on helping people get vital information on evacuation routes and shelters, identifying their flood zone, and how people with disabilities and special needs can register for dedicated evacuation transport.
When the EOC is activated and evacuations have been called, PSTA leaps into action immediately and deploys buses for evacuation efforts.
During this time, PSTA also:
Waives all fares

Allows animals in carriers on any bus

Allows riders to board a PSTA bus from any location in the county by flagging it down

Continues to transport riders until sustained tropical storm force winds begin (39 mph)
After the storm and once winds drop below tropical storm force, PSTA will resume service where possible, and any routes blocked by debris, heavy flooding, and road closures will deviate.
Learn more about PSTA's hurricane response by visiting https://www.psta.net/riding-psta/weather-alert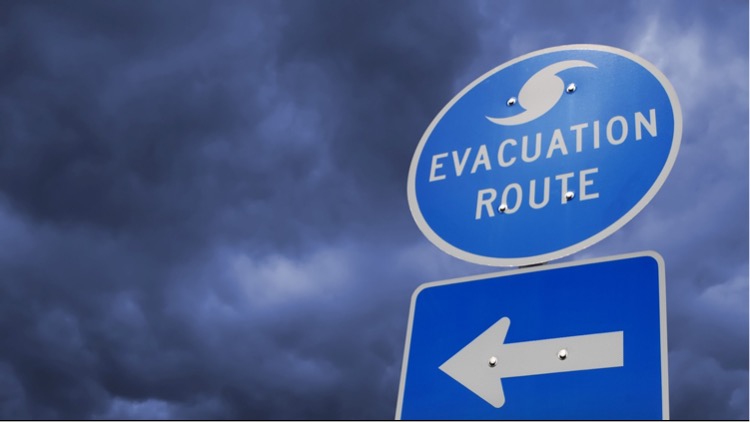 ADA Riders & PSTA Access
For many people with disabilities, the biggest barrier to transportation isn't always ramps or curbs—it's stigma. Some report that judgment they receive from others is a big deterrent to transportation. That's why Access drivers receive specialized training to not only ensure they can keep customers safe, but treat them with dignity and respect.
In addition to paratransit, the ADA requires transit agencies to provide non-paratransit buses to be fully accessible – and some customers may be unaware of just how accessible PSTA city buses and trolleys are!
For example, some customers with disabilities worry they can't step up onto the bus. To address this concern, every single PSTA bus can be lowered to minimize this step and is equipped with ramps, which all customers are entitled to use upon request. Customers just need to request a ramp from the driver and, with the simple push of a button, it can be lowered.
PSTA Access & Mobility-on-Demand

Since the Americans with Disabilities Act (ADA) of 1990 passed, public transit agencies are required to provide paratransit service for people who cannot ride the bus or trolley due to disability.

And thus, our paratransit service PSTA Access was born! Access provides door-to-door services, meaning our specially trained drivers will go to a customer's door and assist them in getting to the vehicle. These rides can be scheduled 24 hours in advance, which is ideal for medical appointments, planned meetups, and other scheduled events.

In addition to Access, PSTA also offers a service called Mobility-on-Demand, which contracts through providers like Uber, Lyft, Taxi, or Wheelchair Transport. Because Mobility-on-Demand rides are curb-to-curb and providers are not trained like Access drivers are, they can't help customers to their doors. However, service can be set up within an hour of your desired ride.

For more information, visit the PSTA Access webpage or call (727) 540-1888.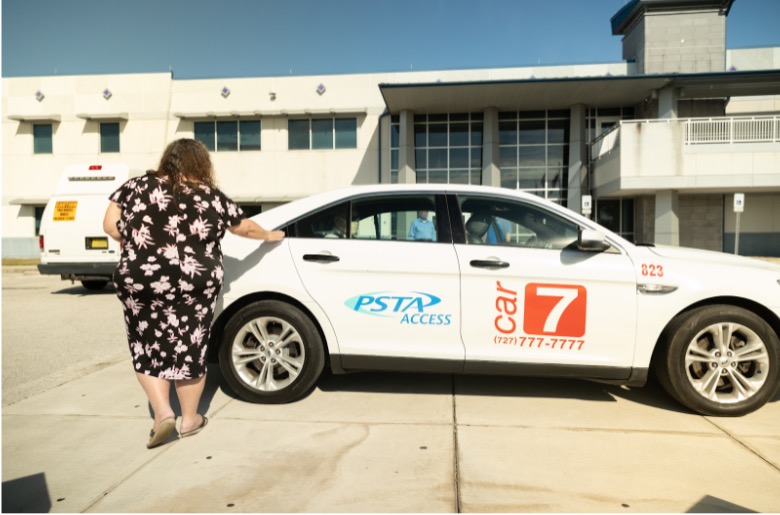 PSTA Access & Mobility-on-Demand
TD LateShift & Direct Connect
Let's face it—some jobs don't fall within bus operation hours, and some bus routes won't take you right to the doorstep of your destination. That's why PSTA was the first to partner with Uber and Lyft, providing huge discounts for PSTA riders to get them exactly where they need to go, no matter the time of day.
As part of the Pinellas County Transportation Disadvantaged (TD) Program, a state-funded program providing reduced-cost transportation throughout the county to residents who qualify as "Transportation Disadvantaged," TD LateShift is for those employees who get off work later than the buses run.
Direct Connect, much like TD LateShift, partners with Uber and Lyft but focuses on helping riders get transportation to places bus routes don't reach. Through Direct Connect, you get a discounted Uber or Lyft ride to/from one of the 26 PSTA Direct Connect locations, so you can skip the walk to/from the PSTA bus while staying safe and comfortable.
To sweeten the deal, Direct Connect is now available through the Transit App! When you open the Transit app, the option for Direct Connect can be selected, and your discount will be automatically applied.
The Future of PSTA's Essential Services
So, how essential is PSTA? We'd say pretty darn essential!
The truth is that public transit has dramatically changed over the past decade alone. Commuting patterns have never looked more different, thanks to remote and hybrid work due to the pandemic. The bottom line: the reasons people use public transit are changing.
Whether it's the emergence of new technology, riding-sharing services like Uber and Lyft, or bike and scooter share, PSTA knows that buses are not the only way to get from one place to another. That's why we have shifted our focus to be less of a bus company and more of a mobility manager, offering a larger variety of new and exciting options to the community.
Above all, PSTA continues to need community support and funding to keep evolving with the needs of riders. As detailed in our Deep Drive about PSTA's funding, we mainly rely on meager property taxes (just $0.75 per $1,000 of the property value!), government grants (the SunRunner was fully funded by a grant!), and fares to serve our community. PSTA can ensure these essential services grow with rider needs by receiving more public support for better funding opportunities and grants!