Service Changes Effective Monday, November 9, 2020:
Starting Monday, November 9, 2020, route 58 will return to service. All service will end at 10 p.m.
The following routes returned to pre-coronavirus service seven days a week in September: 9, 14, 74 and 78.
Routes 4, 18, 19, 34, 52/52LX, 59, 60, Suncoast Beach Trolley & Looper returned to regular frequencies in June and will remain the same.
All routes not mentioned will operate on a Saturday schedule every day except Sundays - when they will run on a regular Sunday/Holiday schedule.
Route 300X returned to service in October.
Regional Express Bus
Select a route
Trolley Services
Select a route
Links to Other Systems in the Region
RIDE FREE: Effective March 19, 2020
PSTA is temporarily pausing all fare collection.
Below is a list of our most popular fares.
3-Day Unlimited Ride Flamingo Fare
7-Day Unlimited Reduced GO Card
7-Day Unlimited Ride Flamingo Fare
31-Day Unlimited Reduced Fare GO Card
Passport Monthly Pass Flamingo Fare
WHERE'S MY BUS?
Introducing the Real Time Bus Information.

PSTA invites you to experience Real Time Bus Information. The system works with GPS technology and allows PSTA to pinpoint each vehicles exact location at all times. This means we can provide reliable, real-time departure information to passengers.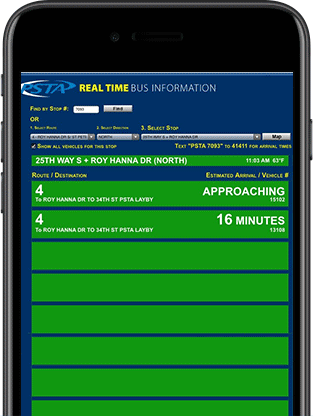 PSTA is dedicated to integrity and ethical practices. As part of this commitment, we maintain an ethics hotline for any employee or member of the public to express concerns or reports of misconduct. Messages may be left anonymously and will be addressed by the appropriate staff members.
To report a concern, please call (727) 540-1809 and leave a message explaining the issue. The ethics hotline is available 24 hours a day.
The ethics hotline is NOT a 911 or emergency service. Do not use this number to report events presenting an immediate threat to life or property. Reports submitted through the ethics hotline may not receive an immediate response. If you require an emergency assistance, please contact your local authorities.