On July 8, local officials unveiled the regions first Bus Rapid Transit System's official new name and logo. Introducing… the SunRunner! The all-new SunRunner is decked out with vibrant and vintage art from local artists Chad Mize and Catherine Woods.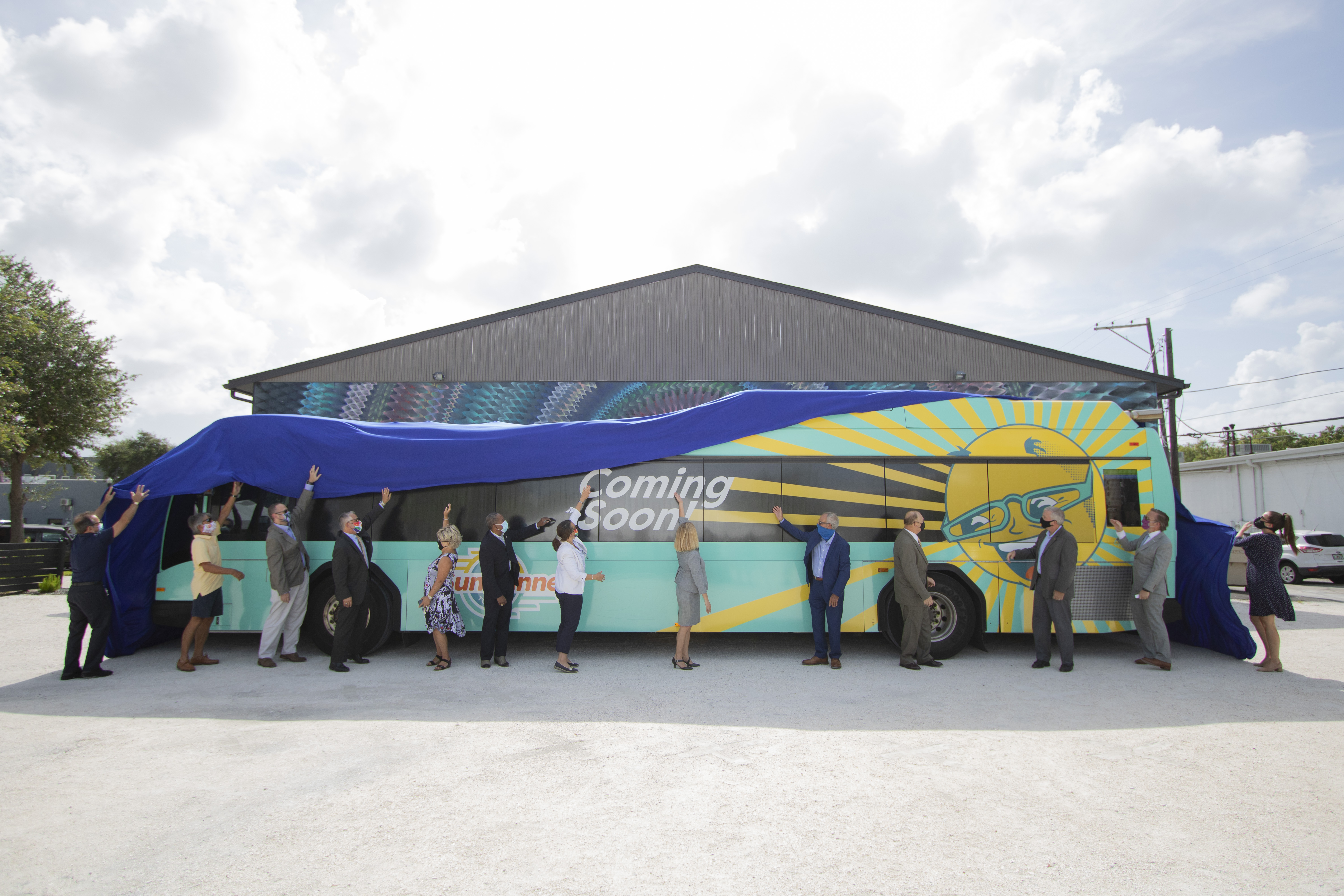 "MR SUN" himself is a salute to the character created by Griffin Advertising in the late 1940s to promote the City of St. Petersburg. The cheerful character was originally designed to attract tourists and could be found on display on the front license plate of cars purchased in St. Pete during the '40s era. As an artist, Mize felt drawn to St. Pete because of the city's growth and creative vision. After seeing a number of artistic interpretations of MR SUN over the years, Mize and Nikolas Kekllas reimagined this fun logo in a way that captures modern-day St. Pete.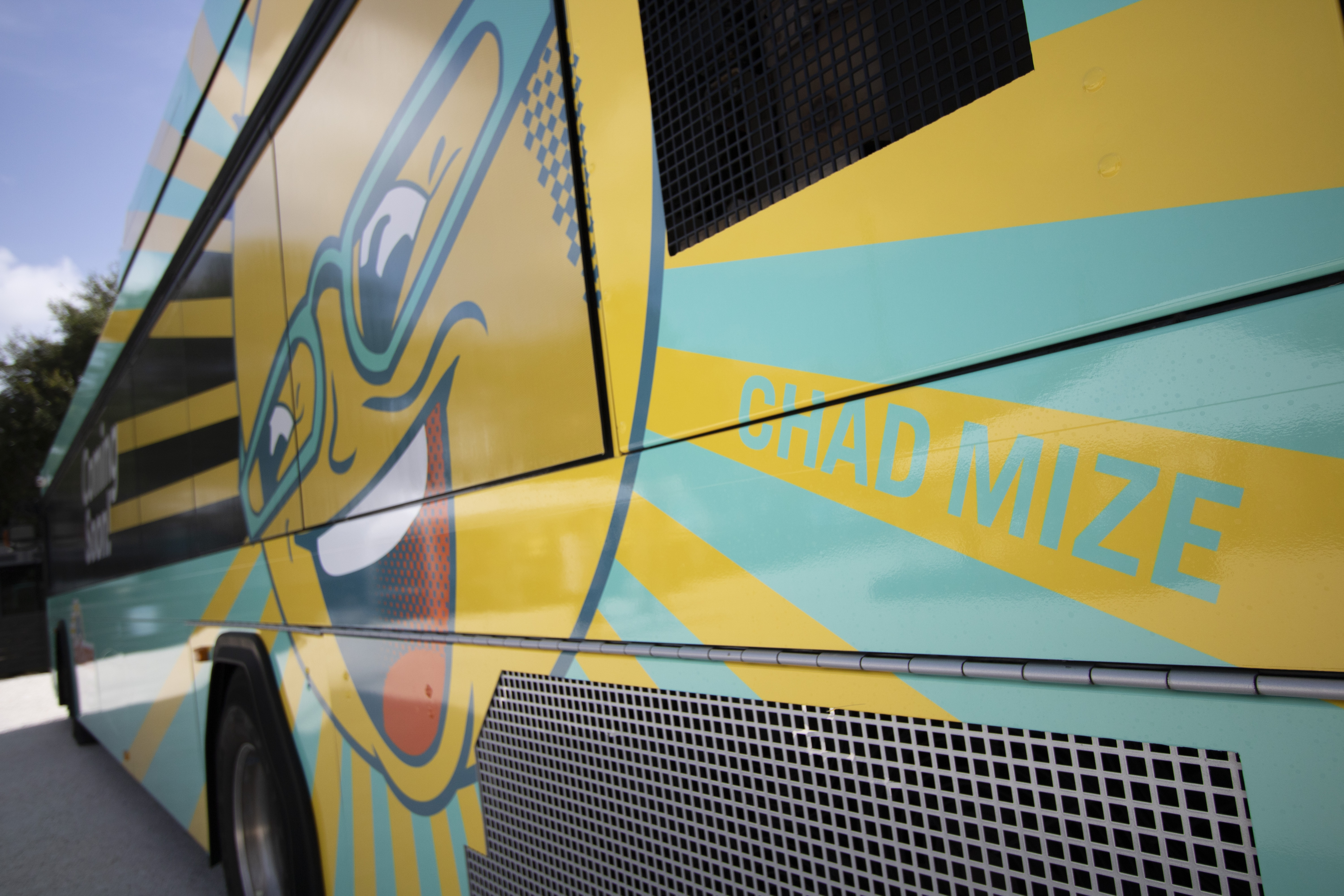 "Since we are the sunshine city it makes sense to have a mascot like MR SUN to represent our city," said Mize. "My hope is that my version of MR SUN carries on the tradition that the old MR SUN did, to help shine a light on our fun and interesting city." Now, the ray of sunshine has another home with our BRT fleet.
The train-like service will connect Pinellas County's world-class beaches with downtown St. Petersburg. Here's what makes the SunRunner a rapid option:
Serves only a limited number of stops along the route.
Customers can enjoy the prepay feature via smartphone or other device to eliminate wait-time caused by paying fares on board.
No steps or stairs are on board, raised stations will allow for level boarding so passengers with bikes, wheelchairs or other mobility devices can easily enter and exit.
Buses have technology that allows vehicles to communicate with traffic signals along the route.
Once construction is completed, the BRT line will feature semi-dedicated lanes and limited stops.
On May 28, 2020, the President of the United States announced PSTA would be allocated $21.8 million in federal grants toward the construction of the BRT project. New buses are anticipated to arrive in 2021, while completion of the project is expected in 2022. "I cannot wait to see and ride the SunRunner being the first transit project of its kind in the entire region," said PSTA Board Chair Joe Barkley. "Passengers will be able to ride the service to the Sunshine city to watch a Rays game, eat at local restaurants, or shop."
The line spans 10.3 miles and 16 stops (30 stations total) that will be served by buses running every 15 minutes from 6 a.m. to midnight. In less than 35 minutes, the SunRunner can take you from downtown to the beach or vice versa.
 In addition to an enhanced rider experience, the SunRunner service introduces public art components beyond the bright, cheerful bus design. 16 SunRunner shelters will be decorated with two art glass panels per shelter to create an inviting atmosphere that adds a fitting touch of color to the artistic surroundings along the route from "Beach to 'Burg".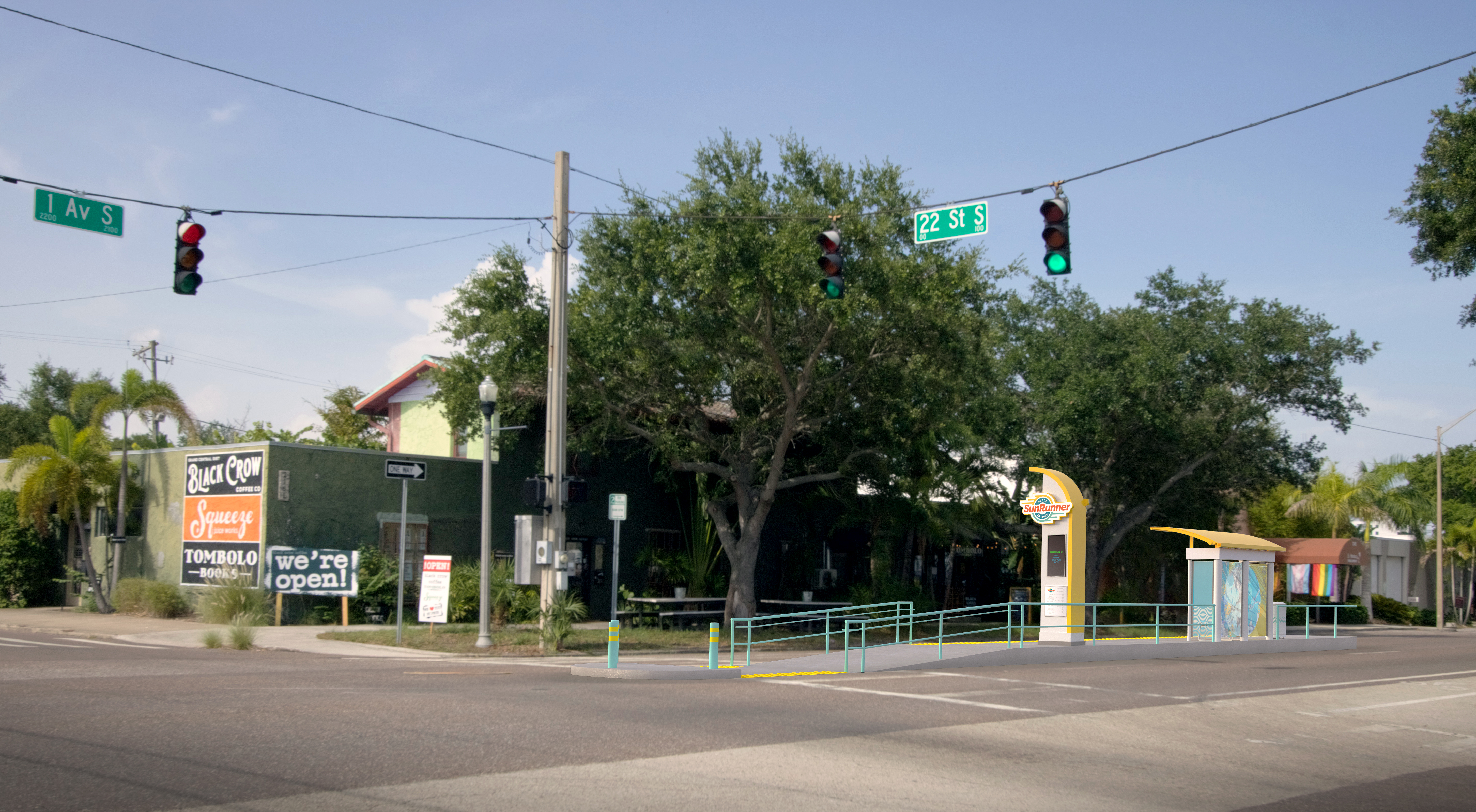 The stunning art glass will act as a visual "love letter" to the beautiful city St. Petersburg, utilizing the artist's images of flora and fauna and nearby neighborhoods and business districts. As a continuous mural format, the artwork will run the length of 1st Ave North, while the remaining seven murals will be showcased in a continuous mural format along 1st Avenue South. Catherine Wood's artwork will feature photos, silhouette drawings, and line drawings that capture St. Pete's unique environment. Overall, the art will elicit a mixture of abstract and representational elements.
"Incorporating art into this project was both important and fitting given St. Petersburg's connection and support of the arts," said St. Petersburg Mayor Rick Kriseman.  "This area is also known for its vibrant, colorful street art, from murals to sculptures. The art scene is alive and well in our community and the locals are proud of it and I'm glad it's reflected in this critical project." To learn more about the SunRunner, please visit our SunRunner page.