Attention Riders: 
Effective Sunday, June 6, 2021, PSTA will return to pre-COVID levels of service.
Masks will still be required as mandated by Federal Law
Passenger limits on buses will be lifted
Riders may resume boarding through the front door
Starting July 5th, PSTA will resume charging fares.
---
A PARTIR DEL 6 DE JUNIO
PSTA volverá a ofrecer los mismos servicios que había ofrecido antes de la pandemia.
Uso de cubrebocas seguirán siendo obligatorias según lo establecido por la Legislación Federal
Se eliminará el límite de pasajeros que pueden subir en los autobuses
Los pasajeros podrán volver a acceder por la puerta principal
A PARTIR DEL 5 DE JULIO
PSTA reanudará el cobro de tarifas.
Regional Express Bus
Select a route
Trolley Services
Select a route
Links to Other Systems in the Region
Effective July 5, 2021: PSTA resumed charging fares.
Download the Flamingo Fares app!
Available on: Google Play | App Store
Below is a list of our most popular fares.
WHERE'S MY BUS?
Introducing the Real Time Bus Information.

PSTA invites you to experience Real Time Bus Information. The system works with GPS technology and allows PSTA to pinpoint each vehicles exact location at all times. This means we can provide reliable, real-time departure information to passengers.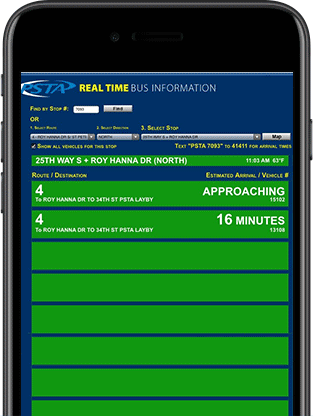 As of March 19th, 2020 , PSTA is temporarily suspending fares on all routes. This is a safety initiative to not only protect our employees but also our passengers. This temporary initiative will reduce crowding at the fare-box and reduce exposure to our drivers. A top priority of our organization is the safety of our employees and our community and we will continue to do our best to help stop the spread. We encourage all passengers to use the backdoor when boarding the bus.
If you need more information about scheduling, please visit psta.net.