PSTA Earth Day Challenge Photo Contest
Release Date: 4/21/15
Who: Pinellas Suncoast Transit Authority
What: Invites the public to an Earth Day Challenge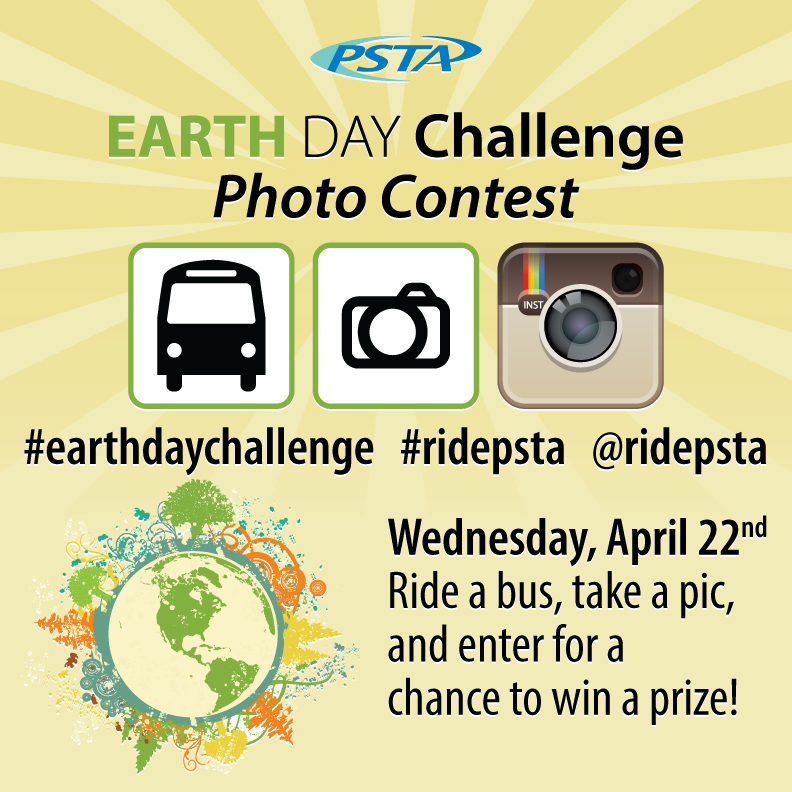 When: Earth Day, Wednesday, April 22, 2015
Where: Via social media platforms: Twitter, Instagram and Facebook
Why: To encourage the community to ride public transportation on Earth Day and reduce their carbon foot print.
Ride a bus, take a pic, and enter to win a prize!
On April 22nd, people from across the globe will be joining together to celebrate the 45th anniversary of Earth Day, and what better way to honor our planet than with a Pinellas Suncoast Transit Authority Earth Day Challenge.
Here it is: This year celebrate our beautiful planet by packing up and heading outdoors on public transportation. Share your Earth Day adventure with us on Twitter, Instagram or Facebook, and be sure to include the hashtags #EarthDayChallenge and #RidePSTA.
We will be choosing the three most creative pictures that capture riders using public transportation and the beautiful outdoors. The prize for 1st place will be a three-day, two-night stay at the Courtyard Marriot in Madeira Beach, 2nd place will be two passes to the Sugar Sand Festival in Clearwater Beach and 3rd prize will be a 31-day PSTA bus pass.
By leaving your car behind and boarding a bus you are not only decreasing your carbon footprint, but you are also showing your community that the earth matters to you.
So jump on the trolley, bus or any of PSTA's 48 Diesel-Electric Hybrid fleet and take part of the Earth Day Challenge.
Ready, set, go!
CONTACT: Ashlie Handy, 727-488-8237, ahandy@psta.net
www.PSTA.net

###