PSTA Helps Prepare Local Students for School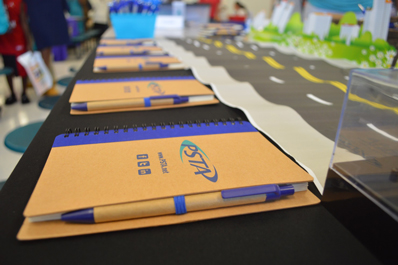 Release Date: 8/21/15
St. Petersburg, Fla. – Four bins filled with school supplies were donated to St. Petersburg's Melrose Elementary School today, courtesy of the Pinellas Suncoast Transit Authority. 
Through PSTA's Operation Giveback, employees filled bins with notebooks, binders, pens, and pencils.  
PSTA employees decided to host the school supply drive as an opportunity to give back to the community.
"The donations came directly from bus operators, mechanics, and all of the other hardworking members of our team here at PSTA," said Tamika White, PSTA Employee Training and Engagement Generalist. "This was something they wanted to do."
Melrose Elementary Principal Nanette Grasso accepted the donation on behalf of the students at the school's Meet-the-Teacher event Friday.
"We are thankful that PSTA has been so generous to us here at Melrose," Grasso said. "This is really about being there as a community for the students."
PSTA also donated bus passes to the school which were raffled off to parents at the event.  
"Transit matters to this school," said Grasso, "and it's an essential part of this community."
www.PSTA.net

###

About PSTA: The Pinellas Suncoast Transit Authority is the public transit provider for Pinellas County, providing more than 14.5 million rides per year. PSTA operates nearly 40 bus and trolley routes with a fleet of 203 vehicles. To learn more about the services offered by PSTA, or for schedule and fare information, passengers are invited to call the PSTA InfoLine at (727) 540-1900, or visit www.psta.net. PSTA is an equal opportunity employer.
MEDIA CONTACT: Ashlie Handy, 727-488-8237, ahandy@psta.net