PSTA Receives Certificate of Achievement for Excellence in Financial Reporting Second consecutive win for the agency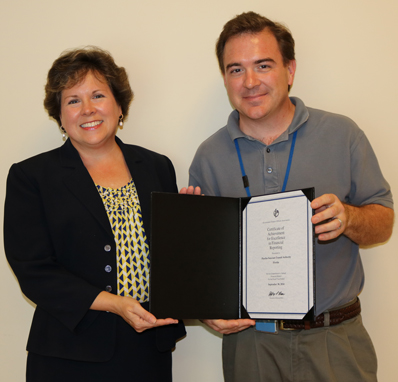 Release Date: 9/16/15
St. Petersburg, Fla. – For the second year in a row, the Pinellas Suncoast Transit Authority (PSTA) has been awarded a Certificate of Achievement for Excellence in Financial Reporting for its comprehensive annual financial report (CAFR).  
The award, presented by the Government Finance Officers Association of the United States and Canada (GFOA), is the highest form of recognition in the area of governmental accounting and financial reporting, and its attainment represents a significant accomplishment by a government and its management. Fiscal year 2014 was the first time PSTA entered its CAFR for consideration of the award.
 "Receiving this award two years in a row validates our dedication to strong financial management and transparent financial reporting," said PSTA Chief Finance Officer Debbie Leous. "I am very proud of our entire finance department for maintaining such a strong record of accountability and good stewardship."
www.PSTA.net

###

About PSTA: The Pinellas Suncoast Transit Authority is the public transit provider for Pinellas County, providing more than 14.5 million rides per year. PSTA operates nearly 40 bus and trolley routes with a fleet of 203 vehicles. To learn more about the services offered by PSTA, or for schedule and fare information, passengers are invited to call the PSTA InfoLine at (727) 540-1900, or visit www.psta.net. PSTA is an equal opportunity employer.
MEDIA CONTACT: Ashlie Handy, 727-488-8237, ahandy@psta.net