Tampa Bay Rays Partner with PSTA for Weekend Series Promo
Release Date: 7/20/15
St. Petersburg, Fla. – Buses and baseball come together for a weekend of transit awareness.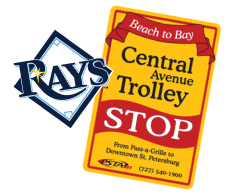 The Pinellas Suncoast Transit Authority (PSTA) and the Tampa Bay Rays are encouraging baseball fans to try transit next weekend by offering free rides on the Central Avenue Trolley to the game series with the Baltimore Orioles.  
The promotion begins Friday, July 24, 2015 and will run through Sunday, July 26, 2015. Game goers on those days can ride the Central Avenue Trolley, or CAT, for free on each day they have a corresponding game ticket for.
The partnership between PSTA and the Tampa Bay Rays comes at a time when transit ridership is on the rise. Last month, PSTA set a new record with more than 1.2 million passenger boardings in a single month. Now, the agency is looking to introduce a positive public transit experience to baseball fans who might not usually think to ride a bus or trolley.
"Our service is here for everyone, for any purpose, especially to support our hometown Rays." said PSTA Chief Executive Officer Brad Miller. "If you are a first-timer looking to get your feet wet with mass transit, this a great time to do it."
PSTA's CAT runs along Central Avenue from Pass-A-Grille to Downtown St. Petersburg. Riders heading to Tropicana Field next weekend can enjoy the benefits of a safe and free ride all day long. 
For more information on riding the bus call the InfoLine at (727) 540-1900 to speak with a customer service representative, and/or find more information online at www.PSTA.net.
www.PSTA.net

###

About PSTA: The Pinellas Suncoast Transit Authority is the public transit provider for Pinellas County, providing more than 14.5 million rides per year. PSTA operates nearly 40 bus and trolley routes with a fleet of 203 vehicles. To learn more about the services offered by PSTA, or for schedule and fare information, passengers are invited to call the PSTA InfoLine at (727) 540-1900, or visit www.psta.net. PSTA is an equal opportunity employer.
MEDIA CONTACT: Ashlie Handy, 727-488-8237, ahandy@psta.net