Service Changes Effective Sunday, February 7, 2021:
All PSTA routes will return to their normal operating schedules, but with all service ending at approximately 10:00 pm.
Passenger limits to allow for social distancing will remain at 15 plus two mobility device passengers per bus.
To accommodate demand, the routes 19, 34 & 52 will have additional "COVID Relief" service added.
PSTA plans to continue this special "COVID Relief" service until further notice.
Regional Express Bus
Select a route
Trolley Services
Select a route
Links to Other Systems in the Region
RIDE FREE: Effective March 19, 2020
PSTA is temporarily pausing all fare collection.
Below is a list of our most popular fares.
3-Day Unlimited Ride Flamingo Fare
7-Day Unlimited Reduced GO Card
7-Day Unlimited Ride Flamingo Fare
31-Day Unlimited Reduced Fare GO Card
Passport Monthly Pass Flamingo Fare
WHERE'S MY BUS?
Introducing the Real Time Bus Information.

PSTA invites you to experience Real Time Bus Information. The system works with GPS technology and allows PSTA to pinpoint each vehicles exact location at all times. This means we can provide reliable, real-time departure information to passengers.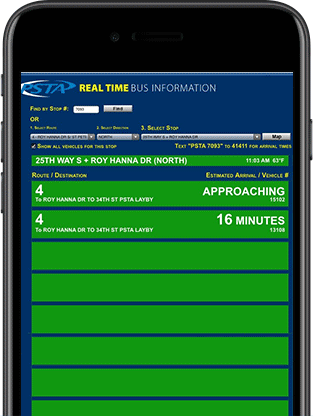 APPLICATION FOR THE TRANSPORTATION DISADVANTAGED (TD) PROGRAM
The Transportation Disadvantaged Program provides lower-cost transportation for life sustaining trips to Pinellas County residents whose gross household income is below 150% of poverty, and who do not have another way to take these trips.

To Apply:
Complete and submit this application for each member of your household who needs this service (age six and above, children 5 and under ride PSTA free).

Applications submitted without proof of income/no income for all household members will not be approved until this is received.